Love our dachshund
FCD was amazing with making the process so easy to find our dream mini dachshund puppy! We had searched over the last year and were overwhelmed by some breeders and making arrangements. FCD felt very different; from the basket to take home, answering my every question, and even helping us settle after we took our puppy home that day, I can't wait to do it again in the future! Pinki (previously Mojo) is the sweetest pup ever, and he's the best thing that's ever happened to our family!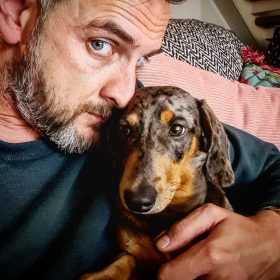 Amazing kimi
We got our Kimi a week ago and couldn't be happier. We were seriously looking for a dachshund with a unique color, but when I came to FIRST CLASS DACHSHUND PUPPIES HOME and look at the available puppies photos, my heart skipped a bit when I saw Kimi. All the FCD puppies are the cutest I've seen. We got a healthy and very handsome boy with the exact personality, so sweet and cuddly but also funny, playful, and with an intelligent mind of his own. Dealing with the breeder was a breeze, so professional, and he answered all our questions, even after purchase, he keeps answering any question I send his way. And as a newbie, I really appreciated the basket he gave us full of useful goodies for our Kimi.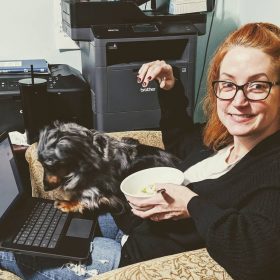 The best thing I ever had!
Paul and his wife are great! We picked up a happy, healthy mini dachshund puppy about four months ago, and we absolutely love her. The owner of First Class Dachshund puppies home is a very responsible breeder, these people care about the long-term health of the breed and clearly love all his dogs. I wouldn't go anywhere else to get another dog. Thanks once more FCD for bringing a life full of joy to our home.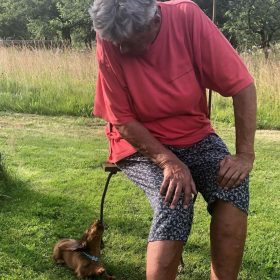 Wonderful temperament, smart, handsome pup
I searched for quite a while for a quality breeder, as I had issues with previous breeders. We couldn't be happier with Bumzi. He is smart, funny, and a joy to be around. He is 4 months old, and we began obedience lessons this week. The trainer could not get over his temperament and how quickly he caught on. He has integrated well into a house with a very alpha female dachshund. It was so great to work with them. Like the other reviews, you will see that FCD takes time to answer all your questions and gives you confidence in your choice of breeder. Wonderful dog – he really turns heads too. Very cute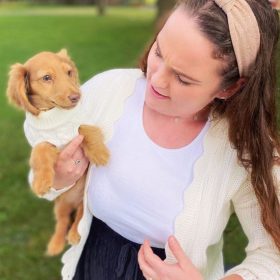 Anderson- now rocky
My name is faith, I bought two Mini Dachshund puppies from you back in the month of January. I just wanted you to know that they have become an important part of our family. They are very energetic and full of life, we just love our new puppies. They are growing into their dog's body. Moreover, learning so many new things like how to eat my new shoes and how to aggravate my other Pets, but all in all, we love her and wouldn't trade her for anything in the world. I have included a picture of them. I will send you updates regularly. Take care.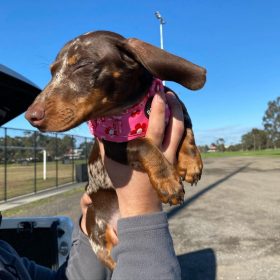 We couldn't ask for more than this- now puma
It's only been one week, but I couldn't be happier, Puma is so precious and lovable, he is worth every penny we spent on him, and we don't regrade whatever money we spend to have him in our home, thank you so, so much, it's nice to know there are honest people out there and great breeders of the Dachshunds.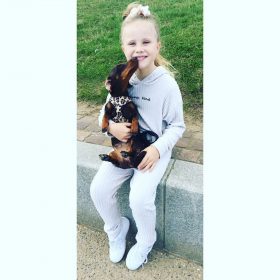 Best decision ever thanks to First Class Dachshund!!
I recently purchased my mini dachshund puppy from you! I received my puppies yesterday, and I am happy to say that they are cutter than I expected!! They are so loving and playful! They are adapting well to their new home! Furthermore, they have been eating and drinking well, and playing with another teacup poodle we have in the house! Thank you all so much for the great customer service you provided. Thank you for setting me up with such precious angels! They are just the perfect pups for our two kids.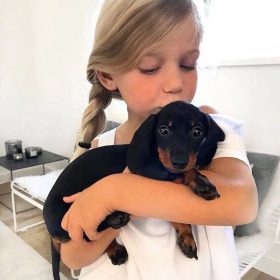 Ox (This boy is amazing)
Ox is absolutely a cutie to have around, she easily got acquainted with his new surroundings since he was a little shy when I just brought her home. I think he will become more friendly with the time, given that he is still getting used to his new environment. I wanted to know more about his feeding habits because he is extremely selective about what he eats. He is just like me because I am a little shy too, I love him very much. Thanks again.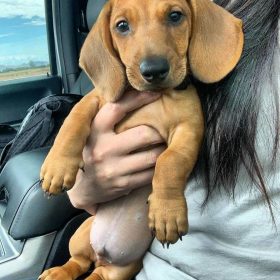 Life is Perfect with Mr. Pee (Listed as Zabuza)!
Hi, First Class Dachshund Puppies home, my family had a lot of pets in the past but never had a mini dachshund puppy until today, and we have been searching for months for a reliable site where we could adopt one at an affordable price. You guys were very helpful from day one, till when we got Mr. Pee, he came in healthy and lovely. Even after our first trip to the vet, he was confirmed healthy and up to date as you promised. You guys are really doing a good job, thanks for everything. God Bless.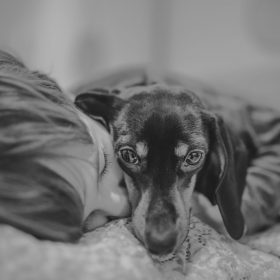 First-Class Dachshunds puppies were recommended by our good friends. We had a great experience with our breeder, Mark Fisher. The process was professional and easy, We picked up the puppy on 16/3/2021, Mark was very helpful even after the dog was home with us the first week, especially making sure we obtained the same food that the male dachshund was used to eating. Highly recommend both First class dachshund puppies and the breeder Mark Fisher.
Larry D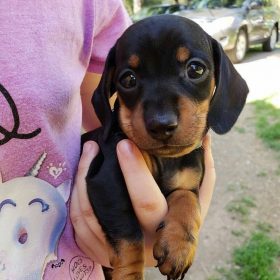 I got my puppy from Mark, and she is beautiful. Very healthy, I brought her to the vet twice so far for check-ups and shots, and she checks out perfectly. She is a great dog !!! Thanks, Mark
Steve Lander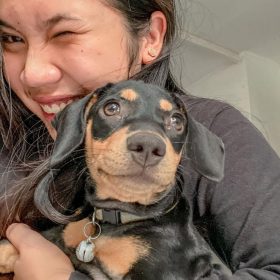 The breeders where we got our puppy from were the best. They were very friendly and responsive. Showed great care for their animals and loved the fact that the puppies were born on their farm. I would highly recommend Mark Fisher and Lillian as a breeder. We love our little Coconut. He is a silver dapple mini long-haired dachshund pup and is such a good boy. He was practically house-trained when he got him.
Topaz Feliciano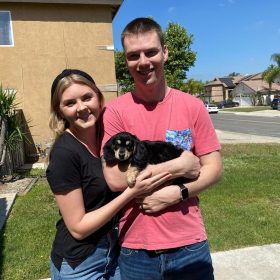 Highly Recommended
I highly recommend Mark Fisher as a breeder. I bought Dale (now Gus) on May 3rd, 2021, and he is very healthy. Mark was great and no, this is not a puppy mill. Gus is 3 months old, and he passed all vet checkups with flying colors. Also, he has an amazing temperament and is a very sweet boy. If you are looking for an adorable addition to your family, Mark Fisher comes highly recommended.
Janine Campbell